This post was originally published over at Mom Paradigm.com but I thought it appropriate for a day like today. But now that I'm writing this, the sun is coming out.Vancouver, make up your mind! Just kidding, who doesn't love the unpredictable nature of the weather here. It's like falling in love all over again.
Out & About | 3 Ways to Enjoy the Rain in Vancouver
Ranked in the top five for most livable cities in the world, there is no doubt Vancouver is a beautiful place to live. We are fortunate to call our city home and when the sun is shining there no better place to be.
But let's get real for a minute. It rains in Vancouver. A lot. Rather than stay in the house for days on end, give those grey rainy days a great big mama bear hug and show your kids there's better things to do than glue every last bit of construction paper to your freshly painted walls.
1. Puddle Jumping
Get your kid's most colourful slickers and galoshes on and find the splash-worthy puddles in your neighbourhood. Take photos of the biggest puddle finds and get in on the action too. Rather than worry about them getting too wet, just bring a change of socks for everyone so as not to put a damper on the fun.
When you get home you can peel off those wet clothes and bundle up with a snack and vote for the best puddle-splashing photo. Getting in on the fun when it rains in Vancouver makes days like these something to look forward to.
2. Aquabus Tour and Granville Island Kids Market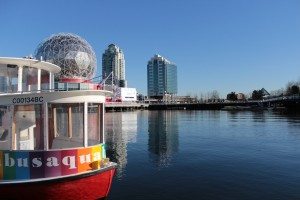 Have you ever taken the Aquabus False Creek Tour on a rainy day? It's quiet out there on the water when it's raining. This makes for the perfect time to cozy up for a ride on Vancouver's smallest ferry services. Be sure to layer up as it can get a bit cold on a rainy day like today!
Bring a thermos of hot chocolate and make sure to share some with your captain as she's probably in need of a cuppa too.
Go to the Kid's Market
When you get off the ferry, check out Net Loft and the main market area to stock up on snacks and make your way to the Kid's Market. For over twenty-five years the Kid's Market has been drawing kids big and small to check out the unique toy and costume shops.
If your kids have energy to burn and are over three years old, they can go for a romp in the Adventure Zone, a four level play space with nets, slides, tunnels and a ball room that will entertain them for hours. At $10 per child it's a great deal if you get there early. They get in and out privileges all day.
Make sure to stop by the puppet store and give the purple unicorn marionette a squeeze from me. It's our son's favourite little friend.
When you're looking for things to do in the rain Vancouver is the place to be.
kidsmarket.ca | 604- 689-8447
1496 Cartwright Street
3. Cozy up with your kids and good books: Vancouver Public Libraries
Share your love of  books and storytelling by spending a rainy day at your local public library. With a location in nearly every neighbourhood or within a bus ride there are oodles of books just waiting to be read, loved and borrowed.
Check out your neighbourhood library for storytime dates and times before you go. Make sure to bring snacks as most location have kid's tables and don't mind if you lay out a small picnic while you browse the books available.You can also while away a bit of time on the kid's designated computers or do a bit of people watching. Most washrooms have change tables too so there's bound to be other kids at the library when it rains in Vancouver.
While you're there go online and reserve your Inspiration Pass for a free two-week full access pass to some of Vancouver's favourite attractions.
So there you have it, three easy activities to enjoy rainy days in Vancouver.
Now if we could just let go of the dreary attitude and embrace the rain in Vancouver. Because sometimes its all we've got.